Your Great Website Starts Here.
Master RapidWeaver and take control of your website with the most comprehensive website design training available anywhere.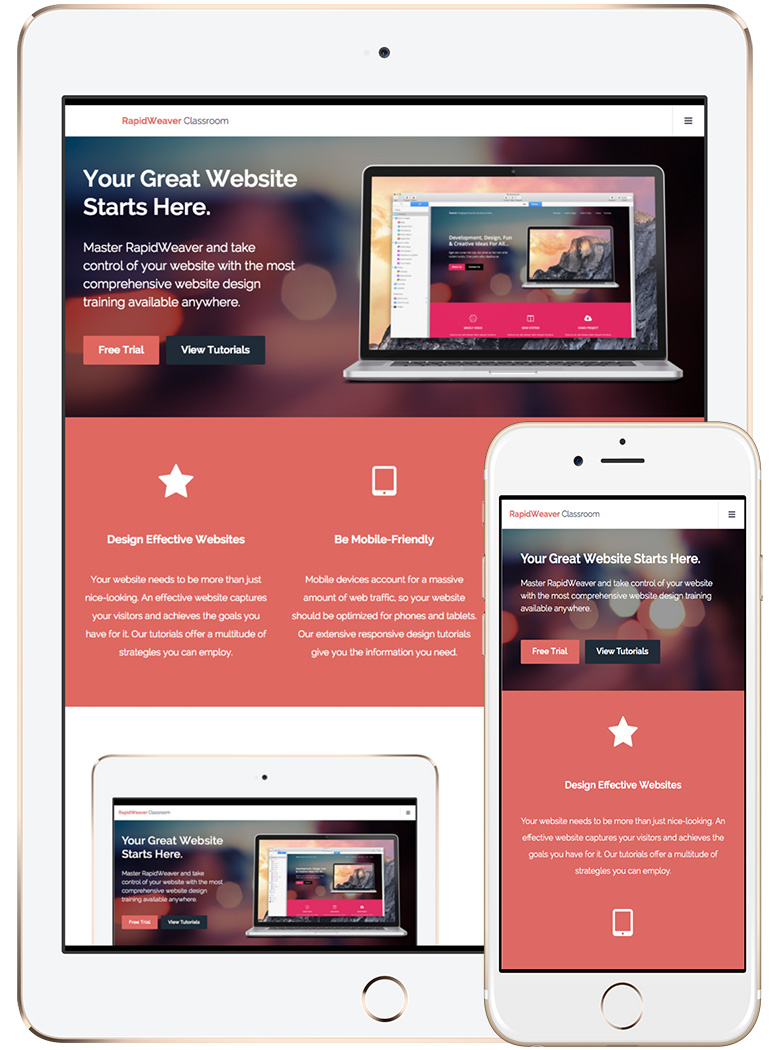 Design Effective Websites
Your website needs to be more than just nice-looking. An effective website captures your visitors and achieves the goals you have for it. Our tutorials offer a multitude of strategles you can employ.
Mobile devices account for a massive amount of web traffic, so your website should be optimized for phones and tablets. Our extensive responsive design tutorials give you the information you need.
Your great website isn't enough if it can't be found online. Our detailed search engine optimization (SEO) tutorials give you techniques and strategies to optimize your website for searches.
What You Get With a Subscription
In addition to countless "AH-HA!" moments…
So many topics, so much detail. It's all just a few click away.
Watch when you want, at your own pace. No dress code required.
The tutorial library is constantly growing with the latest and greatest.
Navigate the tutorials in a variety of ways to find what you need.
Subscribers receive exclusive discounts for addons.
This useful resource ensures you've done it all before you go live.
It's easier to make decisions when you have a reliable endorsement.
10+ years of RapidWeaver experience fuels this training.
Free Tutorials
Get familiar with the quality and level of detail in our tutorials before you begin your subscription.
1-on-1 Support
Get personalized support for times when you need more than what video can provide.
Amazing Testimonials
RapidWeaver Classroom consistently receives the highest praise from its students.
About RapidWeaver Classroom
My name is Ryan Smith and I have been a RapidWeaver user since 2005. I launched this website in 2008 and have dedicated myself to providing the best RapidWeaver training available anywhere.
Read more...
1-on-1 Consulting Services
Whether you've run into some hurdles with your website project, you can't find the time to work on it, or you simply want an outside perspective, I'd be glad help. I offer a variety of 1-on-1 services. Learn more about my
RapidWeaver Consulting
services.
RapidWeaver Classroom is a life saver!
John Dentico
It should go without saying, but this website was built using RapidWeaver and many of its amazing add-ons.
Join today
if you'd like to learn how to build websites like this!